Brown Bag Lecture #7: Dr. Cindy Huang and Dr. Christine Cha (Teachers College, Columbia University)
march 26, 2019
36th Annual Winter Roundtable Conference
February 22, 2019
On Friday, February 22, members of the CHamP lab participated in the 36th Annual Winter Roundtable Conference held at Teachers College, Columbia University. Our RAs facilitated a symposium and led a roundtable discussion around immigrant youth, mental health, and implications for mental health practitioners. We had packed rooms and great engagement from the audience for both talks!
"Family Separation at the U.S. Border"
— Stephanie L. and Emily H. facilitating Dr. Cindy Huang and Dr. Kiara Alvarez's symposium.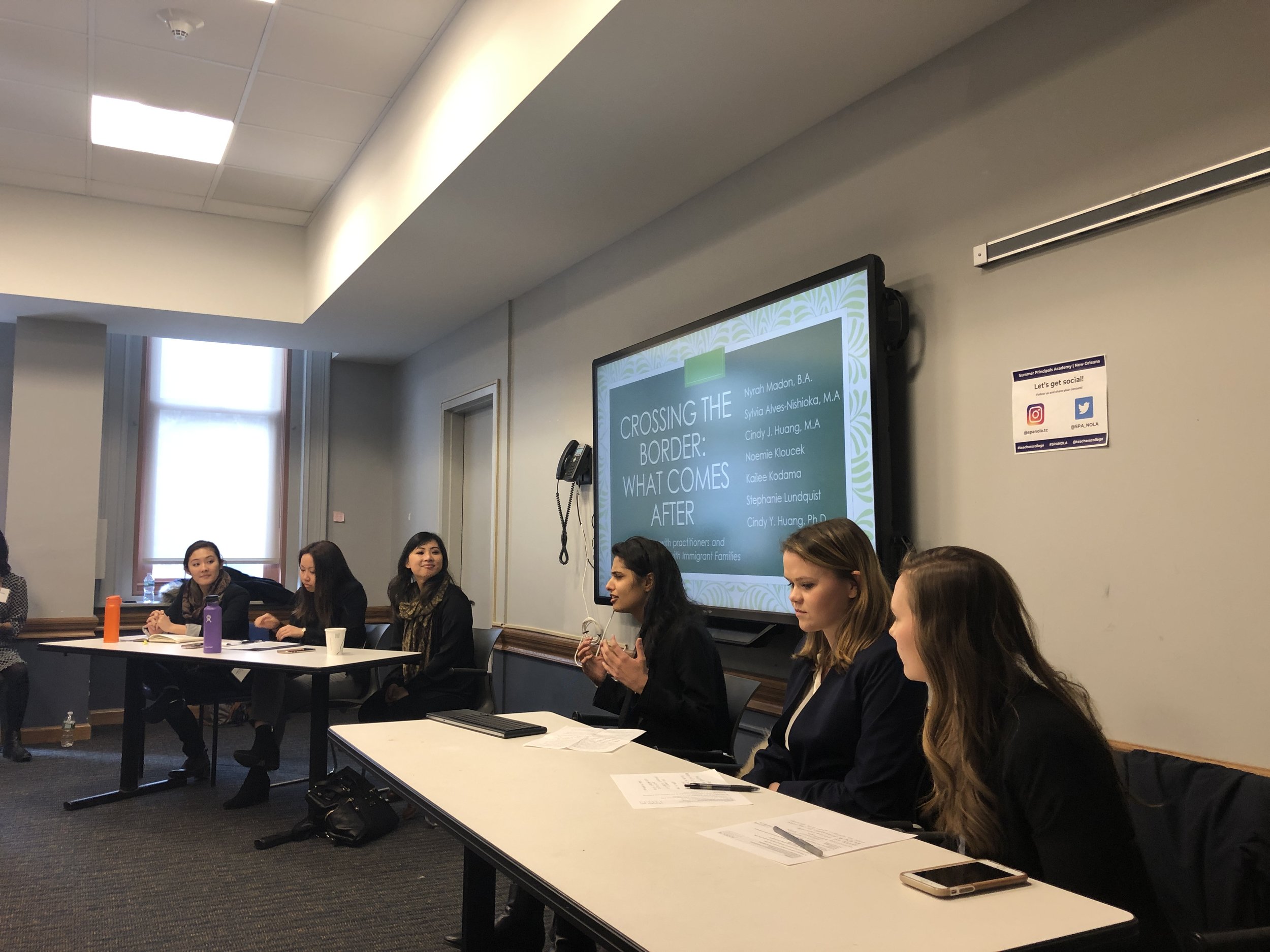 "Crossing the Border: What Comes After"
Nyrah M. introducing and leading the roundtable discussion with Kailee K., Cindy H., Noemie K., and Stephanie L.
Brown Bag Lecture #6: Dr. Aurelie Athan (Teachers College, Columbia University)
February 19, 2019
DIME2 Cafe Talk at Trevor Day School
February 8, 2019
On Wednesday, January 30, Dr. Cindy Huang shared her expertise regarding how to support healthy racial and ethnic development in children and adolescents at Trevor Day School. Parents and educators of Trevor Day School children attended Dr. Huang's talk and, with Dr. Huang's facilitation, engaged in a discussion about promoting healthy racial and ethnic identities among the youth. See the Trevor Thursday Digest below with details about Dr. Huang's talk, written by Scott Reisinger, the Head of School at Trevor Day School.
Brown Bag Lecture #4: Dr. Ruth Gerson (NYU School of Medicine)
December 11, 2018
Joining Forces to Prevent Youth Self-Harm: Two TC psychologists lead a new multidisciplinary project
november 27, 2018
Suicide is now the 10th-leading cause of death in the U.S. For every suicide, another 25 people make an attempt, and countless others contemplate it.
Yet perhaps the most alarming indication of a growing public health crisis is the sharp increase in suicidal thoughts and actions among young people. In the past 10 years, the number of children and teenagers in the U.S. who have been hospitalized for attempting or considering suicide has doubled, according to a study published in Pediatrics in June.
Youth mental health experts Dr. Cindy Huang, TC Assistant Professor of Counseling Psychology, and Dr. Christine Cha, TC Assistant Professor of Clinical Psychology, are taking the lead in unraveling the complex causes of youth suicide and suicide ideation, in designing assessments for individual risk among children and teens, and in developing novel interventions and prevention techniques.
Read more about Dr. Huang and Dr. Cha's research here!
Brown Bag Lecture #3: Dr. Prerna Arora (Teachers College, Columbia University)
November 20, 2018
Brown Bag Lecture #2: Dr. Kiara Alvarez (Harvard Medical School)
october 23, 2018
Brown Bag Lecture #1: Dr. Cindy Huang (Teachers College, Columbia University)
September 18, 2018
Today's Parent – Why your toddler's "no!" phase is so important (and how to survive it)
February 12, 2018
Our very own director of the lab, Dr. Cindy Huang, shares some insight on the importance of "no" in toddlers:
"... make no mistake about it: A 'no' is also meant to test you. Will you give in? Will you put your foot down? It's a mystery to your toddler! 'The way parents respond to limit-setting behaviors is how young children learn,' explains Cindy Huang, Assistant Professor of Counseling Psychology at Teachers College, Columbia University. 'They learn rules about their own behaviors and how to navigate the complex social world around them.'
And that newfound voice of theirs? It also helps them set their own limits so that they forge healthy relationships and even protect themselves from sexual assault. 'If a child doesn't want to be hugged or kissed by another child or adult, their 'no' should be respected and listened to,' says Huang. It's crucial that we understand the context for the 'no.''
There's a lot wrapped up in that little two-letter word—and it's all really important."
Read the full article here!
Teachers College Smarter Parenting and Grandparenting Series
May 9, 2017
Youth Mental Health: Knowing When to Help and How

Mental health can be a tricky topic for parents. What signs do we need to look for? When do we help, and how? Dr. Cha and Dr. Huang--faculty members in TC's Counseling and Clinical Psychology Department and co-directors of the The Child and Adolescent Mental Health Project (CAMHP)--gave a talk in May 2017 to provide an overview of mental health issues for children and adolescents, and discuss practical ways for parents to effectively address mental health concerns such as depression, anxiety, and self-harm. In addition, Dr. Cha and Dr. Huang discussed key research on these topics and offer parenting resources, with the ultimate goal of fostering well-being both within and beyond childhood and adolescence.